Apotex Inc. is recalling four additional lots of Apo-Acyclovir (acyclovir) tablets, in 200 mg and 800 mg strengths, due to the presence of a nitrosamine impurity ( N -nitrosodimethylamine [NDMA]) above or close to the acceptable level.
https://recalls-rappels.canada.ca/en/alert-recall/apotex-recalls-apo-acyclovir-tablets-due-nitrosamine-impurity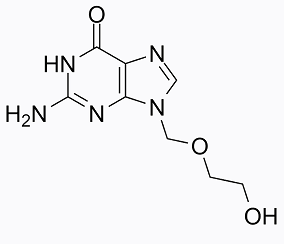 Acyclovir
Acyclovir has a tertiary amine. I searched the synthesis methods of Acyclovir on the internet, but I couldn't identify the root causes of NDMA contamination.