@trust_user_b Anybody in the community dealing with a recall due AZBT in Sartans? Any resource we can offer or solution?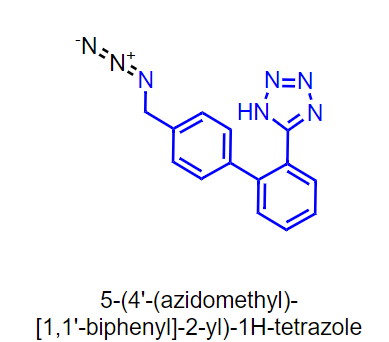 Hi Naiffer , no recalls but I am part of an EFPIA group looking into this. As you know AZBT is not a N-nitrosamine, and is an known impurity, but it seems to be under extra scrutiny from health authorities. Even Sartan chemistry not involving tetrazole ring formation (involved in formation of this Azide related MI) is getting questions. At AZ we are using a purge based argument and with our chemistry and see no risk of presence. We are waiting for a feedback to our various RTQ, and the regulatory questions on this topic are increasing.
Hi Naiffer. I am ordering a AZBT chemical to make an analytical method by LC-MS/MS. I can not find any tested document of AZBT on genotoxicity. If anyone can provide it to me, I'll be very appreaciated.
Hi @ymleefn yes it is a known MI, but not CoC. A recent Ames test has confirmed its AMES positive status (data shared within EFPIA). I thought I had an earlier literature refence to a positive AMES test that was not perfect. I cannot locate presently, but will search for it when I get time. Can I ask who you have sourced your AZBT from, just checking as our potential (off the shelf) UK sources are very expensive?
@ymleefn I do have the published European CMDH letter to MAHs re; AZBT : [CMDH HA AMES report AZBT], which references the two independant AMES tests carried out this year.
Hi Naiffer,
No, not working AZBT nor Sartans however working on new chemical entities currently for that at present we do risk assessment manually wherein I believe if we can adopt any Software / tool which can reduce manual errors. The way Dereck and Mcase is used for identification of GTI's.
I believe @David David mention about Mirabolis software which can be used for Nitrosomine risk assessment, will appreciate if we can get more details on this.
Hi Naiffer, I think this is a very specific case. Although the exact chemistry is not known (there are multiple routes), if there is a bromide intermediate like below and incomplete conversion is observed during the first step, the residual bromide could react with N3- to form alkyl-azide impurity. This could be one possibility. Tighter controls on that step of the reaction likely required.

@JavierFernandez, Wonder if you have any experience in this case of AZBT?
@conudel, you post a great question, What's the challenge to overcome? I resource to all members dealing with it, is there a solution that needs to be developed?
Hi Naiffer,
I do not have direct experience but I have heard from clients who have been contacted by EMA to establish an analytical control on this mutagenic impurity. As it has been said, it is not part of the CoC so standard ICH M7 mechanisms of control can be applied without any question.
I agree with @leonardo.allain Leonardo Allain in how they are formed. Chemically speaking these impurities (since this can happen in any synthetic process where sodium azide is used) form when sodium azide has two possible groups with which react, either due to the step order o due to impurities such as the bromo intermediate shown are still present.
Mirabilis, and the purge approach in general, should indeed help with cases like this! @MichaelBurns leads our Mirabilis work; I'll refer you to him for specific details