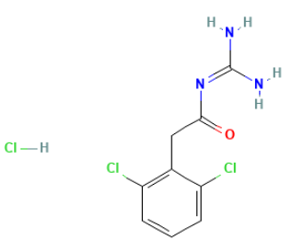 Most of the literature on the nitrosation of guanidine derivatives refer to alkyl-substituted guanidines, for which the nitrosation occurs at the alkyl substituted nitrogen., e.g., cimetidine and etintidine. However, there is also information indicating that the nitrosation of dicyandiamide and even guanidine itself is possible, the former having a higher rate constant (Kinetic Study of N-nitrosation of Guanidines, Fernandez et al., J. Phys. Org. Chem., 2011). No structures are indicated.
So far, we have tried to apply the nitrosation of Guanfacine according to the conditions 1 & 2 suggested by EFPIA (Nitrosamines Quality Risk Management Workflows, Aug 2022), detecting 2 impurity peaks by the HPLC-UV. We suspect that these could correspond to nitroso-derivatives.


Would a structure like this plausible: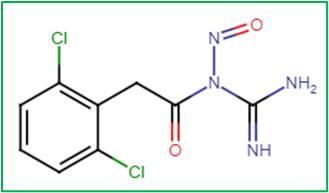 We will try to do a screening by LC-MS.
Any insight would be appreciated!