FDA investigation continues on the presence of N-nitroso-varenicline impurity in varenicline. FDA has also published testing analytical method FY21-092-OTR-DPA-T Determination of Varenicline Nitroso-Drug Substance-Related Impurity in Chantix Drug Product and Drug Substance using LC-ESI-HRMS.pdf (166.1 KB)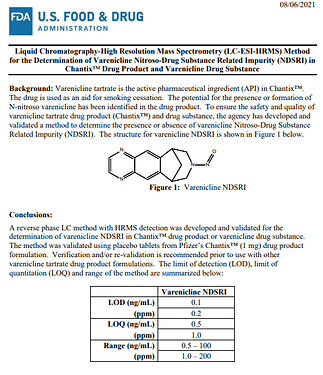 Agency scientists evaluated the risk of exposure to N-nitroso-varenicline at interim acceptable intake levels up to 185 ng per day (92.5 ppm) and determined that it presents minimal additional cancer risk when compared to a lifetime of exposure to N-nitroso-varenicline at the 37 ng per day (18.5 ppm) level.
Apotex is distributing Apo-Varenicline, a Canadian-approved drug product, under FDA's temporary exercise of regulatory flexibility and discretion.
We have ongoing discussions here in the community related to this impurity