Hi Yosukemino…
I want to know about, how NDEA AI Limit 26.5ng/day has been derived?
However, I understood the concept for AI limit of NDMA as per below text & screenshot
"The TD50 values ​​of NDMA in mice and rats were 0.189 mg/kg/day and 0.0959 mg/kg/day, respectively. According to the more conservative rat TD50 value of 0.0959mg/kg/day and human body weight of 50kg, the maximum daily intake of NDMA in humans is calculated as: 0.0959mg/kg/day×50kg/50000=0.0000959mg/day≈96ng/day, the corresponding risk of tumor occurrence is 1 in 100,000"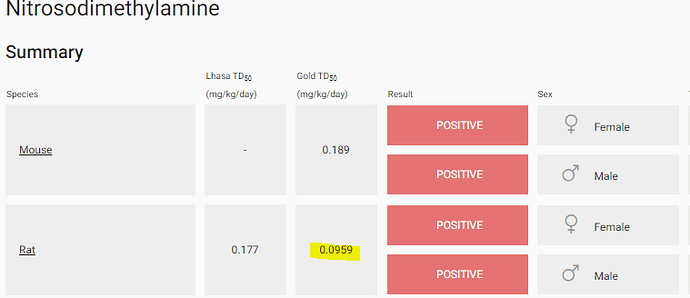 But unable to understand for NDEA TD50 value as per below screenshot, which TD50 value need to consider for AI Limit & Why?
As per RAT Gold TD 50 value, NDEA AI limit is coming 26.5ng/day.
Why more conservative Gold TD 50 value (Bush baby or Monkey) instead of Rat Gold TD 50 value, not consider for AI limit?
Hope, you understand my question/ concern.
for your information, i am not expert in clinical study. That's why I am asking this question.
Thanks
Nilesh