"While ion chromatography is the primary method for nitrite ion analysis, employing the Griess reaction offers several advantages over it. This includes faster and easily visible responses, as well as greater flexibility in sample preparation using organic solvents." This is asserted by Junyong Jo.
Inspired by Griess reagents, he developed a series of molecular probes designed to undergo intramolecular cyclization when reacting with nitrite ions to form diazonium (Rapid-Response Nitrite Probes: Intramolecular Griess Reaction for Nitrite Detection at Picogram Level). This probe not only induces striking color changes but also enables turn-on fluorescence, serving as an alternative detection method for nitrite analysis:
He further evaluated this method on common drug excipients such as microcrystalline cellulose and dicalcium phosphate dihydrate. The results demonstrated its applicability and robustness.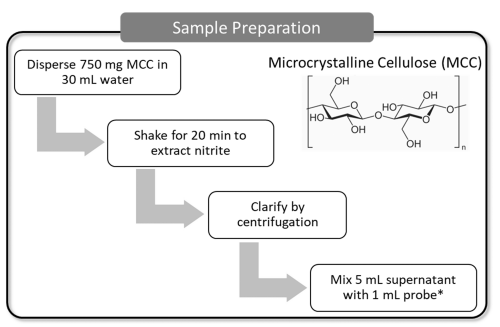 This innovative approach surpasses ion chromatography in terms of solvent compatibility and provides dual detection options with exceptionally low limits of detection.
This advancement invites critical discussion and has the potential to reshape how we approach nitrite ion analysis in drug products. Do you agree?