Dear All,
my question maybe basic for some but I am little confused about it.
Azathioprine structure is below.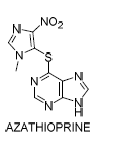 the nitrosamine risk assessment report from API manufacturer showed that;
No sodium nitrite or any other nitrite is used in the manufacturing process of azathioprine, and No secondary or tertiary amines or quaternary ammonium salts or amide solvents are used in the
manufacture of azathioprine.
and concluded that (Therefore, there is no risk of nitrosamine contamination).
I don't agree with this conclusion I think there is high risk of nitrosamine impurities formation since the nitrile and the amine both present in the structure of Azathioprine.
am I right or should I accept the nitrosamine risk assessment report conclusion?