Would it be possible to generate Nitrosamine of 7-Hydroxy-1H–quinolin–2–one. If yes what will be the Potency Category ??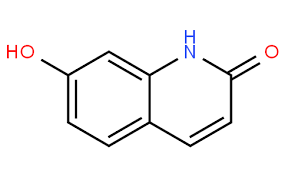 My understanding is that this one does not count as an heteroaromatic ring, but bear in mind that it is not a nitrosamine. The nitroso derivative would be a nitrosoamide. But, if you were to categorize the compound it would be 1500 ng/day (no alpha protons on either alpha position, Category 5)
Formation is much less unlikely due to the electronwithdrawing nature of the carbonyl group (not considering the pseudoaromaticity). I would recommend testing the nitrosation of the position rather than confirmatory testing
If you apply the alternative approach of read-across, the most simil structure is the
1-Nitroso-2,2,4-trimethyl-1,2-dihydroquinoline polymer
with a TD50 of 3.31 mg/kg/day
If you calculate the specific AI according to ICH M7 you will obtain:
3.31 mg/kg/day ÷ 50,000 = 0.0662 μg/kg
To derive a total human daily dose:
0.0662 μg/kg/day x 50 kg body weight = 3.31 μg/day = 3310 ng/day
Because the chemical structure is different, you cannot use "as is" the above limit for your impurity, but this strongly support the proposed limit of 1500 ng/day.
Due to its structural steric hinderance, having no hydrogens on its alpha carbons and the presence of a hydroxyl group (proton withdrawing group), nitrosation is not favored.
Thanks for quick response
You can additionally consider that phenols react much faster with nitrosating species than secondary amines to form mostly C-NO2 derivatives, nitro- not nitroso-derivatives.
Rapid Nitrosation of Phenols and its Derivatives and Its Implications for Health Hazards from Dietary Nitrites (B. C. Challis, Nature, 1973)
Reaction of Phenol with Nitrite Ion_Pathways of Formation of Nitrophenols in Environmental Waters (P. Patnaik & J.N.Khoury , Water Res., 2004) doi:10.1016/j.watres.2003.08.022
On the Polarographic Determination of Phenols after Treatment with Nitrous Acid (H. Lund, Acta Chem, Scand., 1958) doi: 10.3891/acta.chem.scand.12-1444