Hello everyone,
I would like your opinions if Nitroso-Abacavir could be a potential carcinogenic impurity.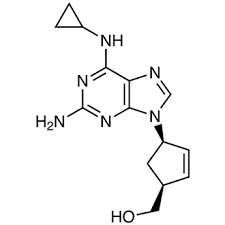 Abacavir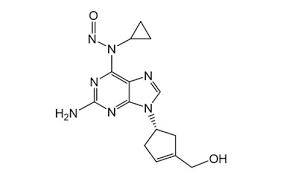 Nitroso-Abacavir
In my opinion it is highly unlikely, due to two factors:
secondary amine is weakly or non-nucleophic due to hindrance and low electron density
there is primary amine in the structure which is more nucleophilic and nitrosation would give only corresponding alcohol as a product
Moreover, you can elucidate TD50 value due to SAR, for nitroso-6-(aminomethyl)purine it is much higher, but I don't remember exact value (i guess it was around 5 mg/kg/day)
Nitroso-Abacavir
SMILES: O=NN(C1CC1)C2=C3C(N([C@@H]4C=CC@HC4)C=N3)=NC(N)=N2
InChI=1/C14H17N7O2/c15-14-17-12-11(13(18-14)21(19-23)9-3-4-9)16-7-20(12)10-2-1-8(5-10)6-22/h1-2,7-10,22H,3-6H2,(H2,15,17,18)/t8-,10-/m1/s1/f/h15H2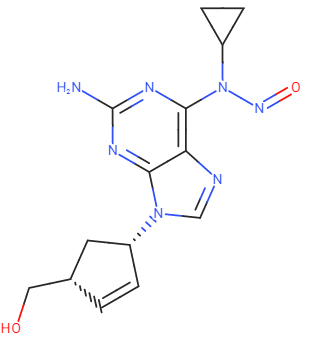 Potency reducing group
Lhasa Carcinogenic Database showcases a similar structure (75% similarity) to
N-Methyl-N-nitrosoadenosine positive Gold TD50 18.3 mg/Kg/day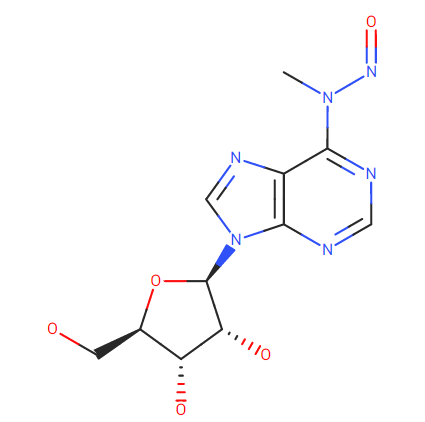 The Nitroso Nitrogen has two substituents, i.e. (a) heterocyclic aromatic ring (adenosine) and (b)
Cyclopropyl ring. The α-carbon to N (of the heterocyclic aromatic ring) does not contain any
substitutable hydrogens therefore, Cytochrome P450-mediated α-hydroxylation which is the key
step towards nitrosamines carcinogenicity is not possible. The second α-carbon (of the
cyclopropyl ring) contains only one hydrogen. The cyclopropyl ring is known to be inert towards
cytochrome P450 (CYP) mediated hydroxylation (Ref: Chem Rev. 2010 Feb 10; 110(2): 932.) Therefore, Abacavir N-Nitrosamine will not
undergo any metabolism to form the aryl/alkyl diazonium ion which is the ultimate DNA
alkylating agent. Based on this, can we consider Nitroso Abacavir is not a cohort-of-concern compound?
Just for the peace of mind I would confirm with a modified Ames test. If it is negative, it could be reasonable to indicate the nitrosamine is not part of the cohort of concern.
Further in vivo testing of course are recommended but is not always feasible to perform them.