A community member brought it to my attention and ask to share it.
EMA and Health Canada have issued an update on viz Nitroso-Sitagliptin (7-Nitroso-3-(trifluoromethyl)-5,6,7,8-tetrahydro [1,2,4] triazolo- [4,3- a] pyrazine).
The impurities have been found in both API and finished dosage form (DP)
EMA has defined a maximum exposure limit of 37ng/day
The nitroso-impurity appears in both as a process impurity in the API and in the drug product, which seems to increase over time during storage
API


viz Nitroso-Sitagliptin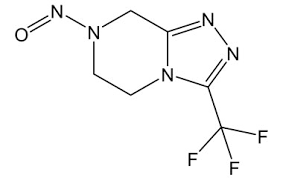 What do we know ?