In the study conducted by @MichaelBurns @David @Naiffer_Host @AndyTeasdale @schlinjo1975, Robert S. Foster, Benjamin P. Thornton, Graham F. Smith and Ian W. Ashworth, a comprehensive re-analysis of the available data has been undertaken, shedding light on a discernible pattern concerning the potential risks associated with complex nitrosamines derived directly from secondary amines.
Revisiting the Landscape of Potential Small and Drug Substance Related Nitrosamines in Pharmaceuticals
The findings underscore a substantial reduction in concern regarding these particular compounds.
Throughout the examination of various datasets, it becomes evident that the prevalence of theoretical nitrosamines categorized as either "Category 1" or "Category 2" is relatively minimal in relation to the total population of compounds examined. To illustrate this point, within the USP dataset comprising 8611 APIs, a mere 99 molecular structures containing secondary amines are identified as potentially posing a risk for nitrosamine formation, necessitating control measures down to an alarmingly low threshold of 18 ng. Furthermore, a substantial majority of the datasets fall under the highest AI categories.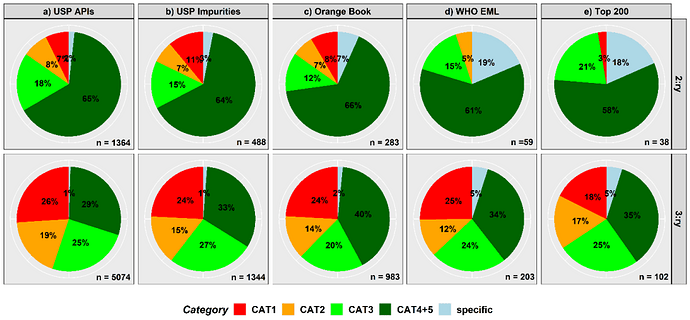 This re-analysis serves as a noteworthy contribution to the field, as it not only highlights the potential for a more nuanced and risk-stratified approach to nitrosamine regulation but also underscores the evolving nature of our comprehension of these chemical entities.
Great work!