I want to pursue EMA's Q&A history here.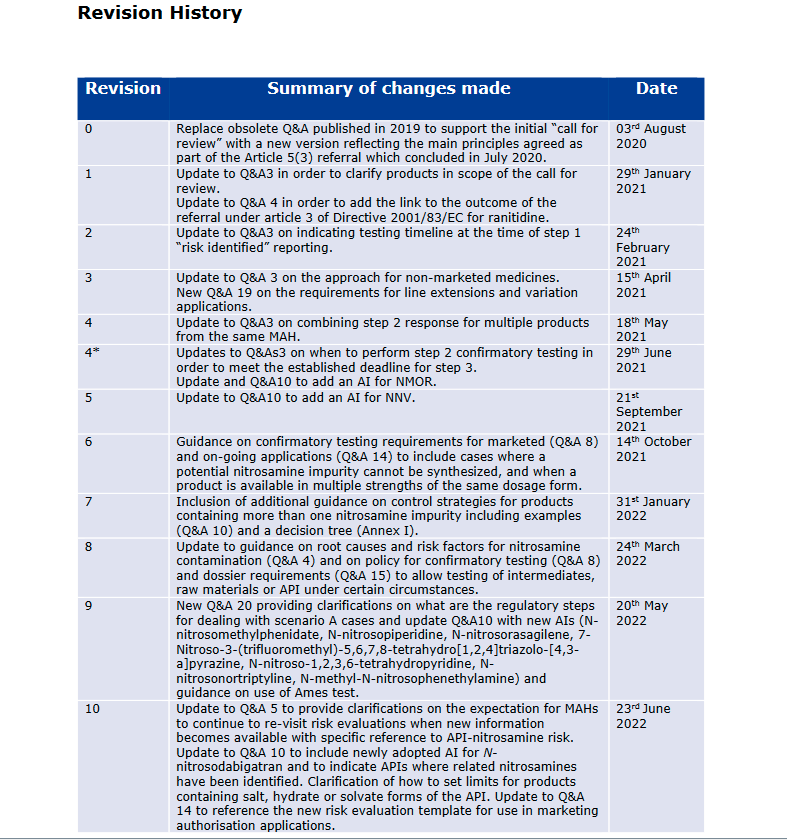 Rev.(-1): Information on nitrosamines for marketing authorisation holders (September 2019)
It included only Background, Responsibilities of MAHs, Potential sources of nitrosamine impurities, and Call for review. Key components of the current Q&A were in this document, except for the limit of nitrosamines. Link
Rev.0: Questions and answers for marketing authorisation holders/applicants on the CHMP Opinion for the Article 5(3) of Regulation (EC) No 726/2004 referral on nitrosamine impurities in human medicinal products (August 2020)
The new version of EMA's nitrosamine Q&A reflected the main principles agreed as part of the Article 5(3) referral which concluded in July 2020.
Rev.1 (January 2021)
Q3 for the report of steps 1 and 2 and Q4 for root cause analysis were updated. Q5 for newly identified risks and Q8 for how to conduct the confirmatory testing were updated. Link
Rev.2 (February 2021) to Rev.5(September 2021)
The details of Q3 were added. And the limit of NNOR and NNV were added.
Rev.6 (October 2021)
Guidance on confirmatory testing where a potential nitrosamine impurity cannot be synthesized, and when a product is available in multiple strengths of the same dosage form. Link
Rev.7 (January 2022)
Q10 included guidelines for calculations where more than one nitrosamine was contained in the product. And the decision tree was added as Annex I.