Thank you for sharing, @DAB. I found the structure of "Irbesartan Nitroso Impurity".

According to the announcement, this impurity seems contained in some API batches.
Though it looks free from alpha-hydroxylation, it is considered as a probable human carcinogen.
Besides tetrazole ring is unique for sartan drugs, further investigation will be expected.
Company announcement from FDA's website. Thanks @DAB @Yosukemino for the insights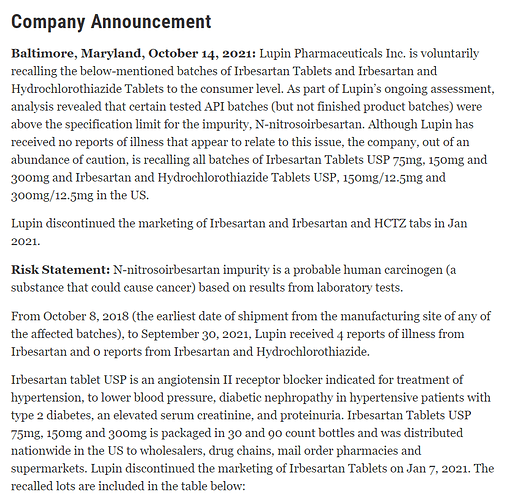 Thanks @Yosukemino for the prompt evaluation. It would be interesting to follow the course of this Recall. Lupin is a major player operating out of India and US and it would be worth tracking the Cos strategy for similar products in the Indian mkt also As per this notification ,Lupin has discontinued Mfg of this product in Jan 2021.
I'm including below some great points and comments raised by few members at a LinkedIn post by @andresaopedro
@MichaelBurns: This is certainly interesting. Though not strictly speaking a nitrosamine, n-nitrosoheteroaromatic compounds are known to have mutagenic potential through a different mechanism - though outside of the cohort of concern. @David: The mechanism of any genotoxicity of these may be through initial metabolic reduction to the hydroxylamine and thus joining the aromatic amine pathway. Unfortunately I'm unaware of any carcinogenicity data to analyse potency, but with the alpha-hydroxylation to diazonium ion mechanism impossible (not only are nitrosoheteroaromatic compounds stabilised by their aromaticity, but there is also a complete lack of alpha hydrogens in this case), I would expect these compounds to be outside the cohort of concern.
@AndyTeasdale: I would concur in terms of the likelihood that this would be Ames positive, it is certainly unlikely if not impossible to form a diazonium ion through the metabolic pathway associated with N Nitrosamines and cohort of concern
@jbercu: This has no hydrogen at the alpha carbon position. This is not expected to be Ames +. Wonder what tox data is available and why it's a concern.
@Anuragtrivedi @sanjaybokan @Sandy @satyababu any content or comment to share here?
According to the recent studies, the reaction of Irbesartan with nitrous acid produces Irbesartan oxime derivatives, rather than N -Nitrosoirbesartan. Though I'm not sure the details of the recall, it's helpful to understand nitrosamine risk assessment.