Of late, I am seeing an alarming trend where people are mislabeling impurities as nitrosamines, when they are really nitrosamides/carbamates/urea/guanidine. Let us understand thatthe N-nitroso compounds can be divided into two categories, the M-nitrosamines and N-nitrosamides** (Figure 1). N -nitrosamines are formally derived by the reaction of secondary and tertiary amines with nitrous acid or other nitrosating agents. These can be formally considered as "amides" of nitrous acid and are stable. N-nitrosamines need to be metabolized in order to elicit their mutagenic or in many cases, carcinogenic behavior and it is believed that most of these compounds are activated by alpha hydroxylation in presence of Cytochrome P450 and NADPH (Figure 2).
Figure 1: N-nitroso compounds


The N-nitrosamides are compounds where there is a carbonyl group (C=O or C=N) attached to the nitrogen bearing the "NO" group. Members of this class include N-nitrosoamides, N-nitrosocarbamates, N-nitrosoureas, N-nitrosoguanidines. This class of N-nitroso compounds are known to be unstable compared to the N-nitrosamines and do not need to be metabolized to produce the electrophile carbocation. Please do not treat them the same way as nitrosamines, where the NNO group is flanked by alkyl groups.
Figure 2: Activation of N-nitroso compounds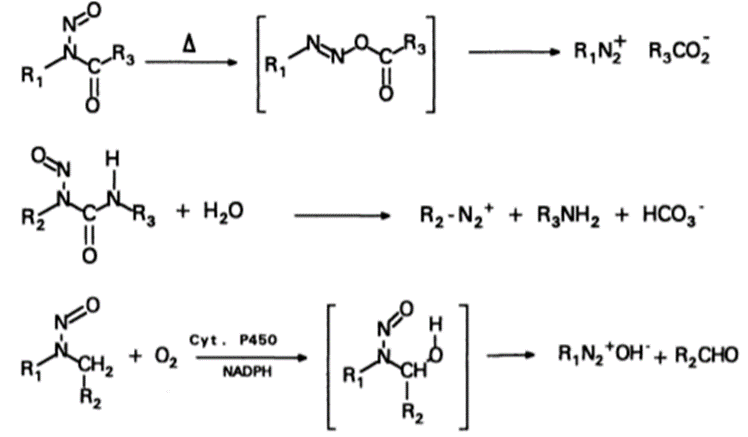 Adapted from Loeppky, R., N.; "Nitrosamine and N-Nitroso Compound Chemistry and Biochemistry: Advances and Perspectives";
ACS Symposium Series,
1993, 553
,
Chapter 1, pp. 1-18.