Have any of you tried this resource?
@Yosukemino @JavierFernandez
Dear Alaaelkazak
Thank you for sharing
The tool is working fine and is very much helpful for accurate CPCA scoring without manual errors.
However, seen discrepancies when attempted to check the score for classical nitrosamine such as NDMA (though not required), where in the tool do not calculate and provided the score, nonetheless, in the end 1500 ng/day AI has been provided by mentioning as category 5. Attached screenshot for reference.

Dear @Yosukemino @JavierFernandez,
This programme an excellent job of calculating the Nitrosamine Potency Category and is very simple to use.
I calculated a number of examples using both this tool and theoretical calculations, and the results were consistent. We can use this too for assigning Nitrosamine Potency Category.
Once again, thank you very much for all of your assistance to us and the entire pharmaceutical sector.
Thanks and Regards,
Dr. Dinkar
Thank you for sharing information, @Alaaelkazak, @bhaskarpgcb, @Dinkar. However, I am not familiar with Python. I tried to use it, but I could not. If you could help me, I would appreciate it.
Thanks alot. Really easy tool.
Thank you for sharing the information, @zp19870505. I appreciate your help.
And "beta-methyl" issue may not be treated correctly in this app. I added the results. FDA classified Nitroso-Ethambutol as category 4 and the result was category 3. Please be careful.
Nitroso-Ethambutol.pdf (50.0 KB)
Thank you for sharing! I did not know about it and will defenitely check it
Kind regards
Thanks for your information, i'll try to contact the author to correct it
There are about 15 structures that I am aware fail some of this structural calculators. They have to be program with specific rules beyond the cpca basics. It's just matter of fine tuning!
Love to see the emerging of all these open-access tools supporting Nitrosamines science!
@ [Yosukemino] Is the CPCA used to calculate the limit for unknown Nitrosamine which are non NDSRI ???
Thank you for asking me. The definition of nitrosamine drug substance-related impurities (NDSRI) in FDA guidance is a nitrosamine impurity that shares structural similarity to the API (having the API or API fragment in the chemical structure) and is unique to each API. I think the definition does not come from the structure but from the source of nitrosamine like API or API-related-impurity. And one of the most simple NDSRIs is N-nitroso-piperazine in EMA Appendix. It's not so complex. The border between NDSRI and non-NDSRI looks unclear on a structural basis.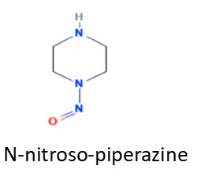 I am unsure what compound you meant, but I think it should be dealt with on a case-by-case basis.
If the non-NDSRI shows a high potency score in CPCA, I expect high AI can be justified because of the steric hindrance or deactivating feature in the compound. The comparison of the results from CPCA, read-across, and 18ng/day(or 26.5ng/day) helps understand the potency of the nitrosamines. Is this an answer to your question?
Dear Alaaelkazak
Thank you for sharing. Tried this tool for few molecules and working well. Have a question, do we have to set up AI limits for all NDSRIs, irrespective of the pH and nitrites in the drug product.
@Yosukemino: Thanks for ur prompt reply, I mean in My product N-nitroso cyclic amine is the nitrosamine impunity which in coming from supplier, and it is not NDSRI. Also, AI is not available in any Guideline. Instead, og 18 ng or 26.5 ng can i use CPCA tool ?? Because by CPCA tool impunity AI is 100 ng .
Hi,
Just to give my opinion here, I would consider for non-NDSRI a read across as an option. Normally, non-NSDRI are small molecular weight nitrosamines where surrogates are easier to find and would be scientifically more appropiate.
It depends on the structure of the nitrosamine but in some cases CPCA is applicable, I think. You can consider it scientifically. And visualization thread may help understand what compounds CPCA is applied to.
Can you share the these 15 details for understanding?
I'll be happy to share once I receive authorization to do so. Someone else has done the work and flagged it to me.
Hello, I am the author of this app. Thanks for your interest in this application. I have checked the issues, it's because when to comes to scoring procedure, it will first count the alpha hydrogens where [3,3] (3 hydrogens on both carbons) is not included in the list in the guidance. So the app cannot calculate the score due to my pre-defined setting.